Bell Glass Teapot w/ Infuser (24oz)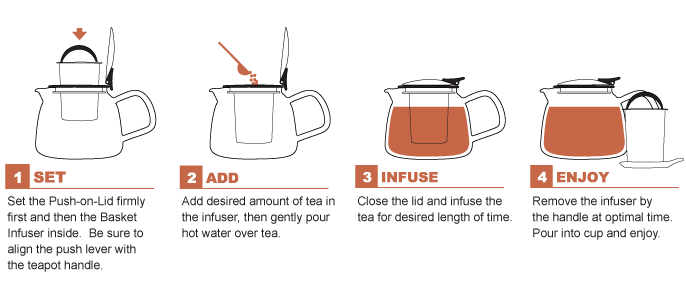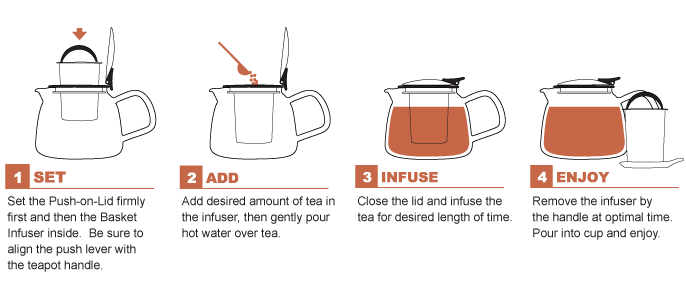 sold out
Bell Glass Teapot w/ Infuser (24oz)
The larger size of our favorite teapot!
The stylish bell-shaped glass teapot, complete with stainless-steel basket infuser with handle and push-on-lid allows you to remove the infuser at the optimal time. An enchanting dance of aroma and color will unfold before your eyes as you enjoy the subtle flavor of your infused tea. Cleaning is hassle free and all parts go in the dishwasher.

SHIPPING INFO:
PLEASE CHOOSE: USPS FLAT RATE - LARGE SIZE BOX
Product Dimension:
L 6.5" x W 4.8" x H 4.5" (L 16.5 cm x W 12.2 cm x H 11.4 cm)

Product Weight:
0.70 LB. (320g.)


PARTS & MATERIALS

BASKET INFUSER : Stainless Steel / Polypropylene
- Dishwasher-safe
- BPA-free
- Heat resistant up to 120°C/240°F
- Condensed extra-fine holes to circulate the tea efficiently
- Handle for easy access to control infusing time

PUSH-ON-LID : Stainless Steel / ABS / Silicone
- Attach & detach capability for easy cleaning
- Secure the Basket Infuser while in use
- Dishwasher-safe
- BPA-free
- Heat resistant up to 120°C/248°F

POT : Lead-Free Borocilicate Glass
- Hand-wash recommended
- Microwavable
- Thermal shock resistant up to 120°C/248°F
 
Care Instruction & Warning

- Do not lift the pot by the Push-on-Lid.
- Use caution when handling hot water.
- Press the push lever gently to open the lid.
- Do not put pot on heating element.
- Let boiling water cool down a bit before pouring it in pot.
- Use baking soda dissolved in warm water to clean tea stain as needed.