Bell Glass Teapot w/ Infuser (14oz)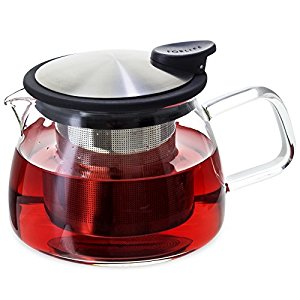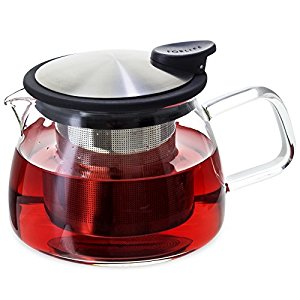 Bell Glass Teapot w/ Infuser (14oz)
Our favorite teapot! We use this everyday!
The stylish bell-shaped glass teapot, complete with stainless-steel basket infuser with handle and push-on-lid allows you to remove the infuser at the optimal time. An enchanting dance of aroma and color will unfold before your eyes as you enjoy the subtle flavor of your infused tea. Cleaning is hassle free and all parts go in the dishwasher.

SHIPPING INFO:
PLEASE CHOOSE: USPS FLAT RATE - MEDIUM SIZE BOX
WHAT IS A PUSH-ON-LID?
The Push-on-Lid is an innovative feature designed to give you greater flexibility in tea making process and ease of care and maintenance. With a simple push, the base made of silicone rubber firmly attaches to the opening of the pot, preventing the lid from falling off when serving. While the base stays firmly in place, flip open the stainless steel cover by a flick of the thumb to add tea leaves. By simply removing the lid, your cleaning routine is much easier as well!
BASKET INFUSER: STAINLESS STEEL / POHLYPROPYLENE
• Dishwasher-safe
• BPA-free
• Heat resistant up to 120˚C/240˚F
• Condensed extra-fine holes to circulate tea efficiently
• Handle for easy access to control infusing time

PUSH-ON-LID: STAINLESS STEEL / ABS /SILICONE
• Attach + detach capability for easy cleaning
• Secure the double wall infuser while in use
• Dishwasher-safe
• BPA-free
• Heat resistant up to 120˚C/240˚F

POT: LEAD-FREE BOROCILLICATE GLASS
• Hand-washing recommended
• Microwaveable
• Thermal shock resistant up to 120˚C/240˚F